BritRail M-Pass
Introducing The BritRail M-Pass
As from 2017 BritRail has introduced an exciting and easy new way to travel.
The BritRail M-Pass !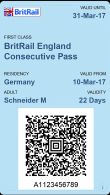 Launching with the BritRail England Consecutive M-Pass for mobile devices, customers will be able to travel the whole of England on their mobile phone. You can book now, find out more by reading our frequently asked questions below.
BritRail M-Pass Frequently Asked Questions
What is a BritRail M-Pass.
M-Pass means '

Mobile Pass

' and is your complete Pass ready for travelling on your mobile phone.
Which Passes are Available as an BritRail M-Pass.
The brand new M-Pass will be launched to all
BritRail England Consecutive Pass
travellers initially.
What Advantages Does the BritRail M-Pass Bring to the User.
What Advantages Does the BritRail M-Pass Bring
The answer... many! See below.
Save Time as once your

BritRail M-Pass

is downloaded to your mobile phone, there is no need to queue up at a ticket office any more to get your Pass stamped.

Save Money

as postage costs are no longer applicable when purchasing an M-Pass.

Save Hassle

when travelling with the

M-Pass

as its on your mobile phone and won't get lost.

Downloadable as a PDF, you can store it on a variety of electronic devices such as mobile phone, iPhone, tablet, iPad, etc... you can even print it out as a back-up!
Editors Note: We advise printing it off a few copies, and spreading them around your luggage, 'just in case your mobile phone gets stolen'.
Also let someone you know back home have a copy of the pdf and any copy emails of correspondencec. Again do this just in case your mobile phone or laptop/ipad is stolen.

How does the BritRail M-Pass Work.

The BritRail M-Pass works as a Download.
Once purchased, you will receive a link to download your M-Pass to your phone from our central system.

You can do this nearer your departure date in case your first date of travel changes.

BritRail M-Pass

allows immediate travel.

Once downloaded, you are ready to travel!

Simply present your M-Pass to any ticket barrier with a barcode reader on it (as seen in picture) or to any member of staff who asks to see it at the side gate or on the train.
What if There is No Barcode Ticket Reader for your BritRail M-Pass.
Not every station has barcode readers installed on their ticket barriers

.
If you come to a station where there is no barcode reader on the ticket barrier, this is fine.

Simply go to the side gate and the member of staff will either scan your M-Pass or visually inspect it and let you through.
What if the Train Manager Does Not have a Barcode Ticket Reader.
Barcode ticket readers are currently being rolled out across the network.

When train managers do have a barcode ticket reader, simply present your

BritRail M-Pass

for them to scan.

If they do not have a barcode ticket reader, still show them your phone as the M-Pass has been designed to be visually inspected by train managers allowing you to travel seamlessly.
Will BritRail Stop Paper Ticket BritRail Passes in the Future.
Will BritRail Stop Paper Ticket BritRail Passes
Both

BritRail M-Passes

and

BritRail Paper Passes

will be in circulation for customers to purchase.

It is likely that in the future when all Pass categories are made M-Pass that Paper Passes will be faded out.

Remember paper tickets make jobs for employees. Consider you might need a job in future years or more importantly your children will need jobs.
Where Can I Buy a BritRail M-Pass
We are a BritRail specialist and are one of the first to offer the new

BritRail M-Pass

.
You can purchase your M-Pass at their online shop by clicking the purchase buttons below