BritRail England Consecutive M-Pass
BritRail England Consecutive M-Pass
The Britrail England M-Pass Has All The Same Features as the Paper BritRail Pass
BritRail England M-Passes allow unlimited travel in England on any scheduled train. Heathrow Express, Gatwick Express and Stansted Express, trains from Luton Airport to London, from Birmingham and Manchester airports are also included.
What Advantages Does the BritRail M-Pass Bring
Advantages of the BritRail M-Pass
The answer... many! See below.
Save Time as once your

BritRail M-Pass

is downloaded to your mobile phone, there is no need to queue up at a ticket office any more to get your Pass stamped.

Save Money

as postage costs are no longer applicable when purchasing an M-Pass.

Save Hassle

when travelling with the

M-Pass

as its on your mobile phone and won't get lost.

Downloadable as a PDF, you can store it on a variety of electronic devices such as mobile phone, iPhone, tablet, iPad, etc... you can even print it out as a back-up!
Editors Note: We advise printing it off a few copies, and spreading them around your luggage, 'just in case your mobile phone gets stolen'.
Also let someone you know back home have a copy of the pdf and any copy emails of correspondencec. Again just in case your mobile phone or laptop/ipad is stolen.

How does the BritRail M-Pass Work.

The BritRail M-Pass works as a Download.
Once purchased, you will receive a link to download your

M-Pass

to your phone from our central system.

You can do this nearer your departure date in case your first date of travel changes.

BritRail M-Pass

allows immediate travel.

Once downloaded, you are ready to travel!

Simply present your M-Pass to any ticket barrier with a barcode reader on it (as seen in picture) or to any member of staff who asks to see it at the side gate or on the train.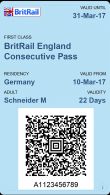 BritRail England M-Pass Pre-Booking Time
11 months
BritRail England M-Pass Features
BritRail England Features
Unlimited travel throughout England (up to the borders of Wales and Scotland) on the national rail network of Britain from morning until night.

BritRail offers exceptional discounts to small groups travelling together, off-peak travellers, seniors over 60, families and young travellers under 26 - See below for details!

Available in either First or Standard Class.

Allows you to explore by hopping on and off the trains as you wish.

Get access to the Heathrow, Gatwick and Stansted Express trains - the quickest way from London's airports to central London.

These Passes are not available to buy in the UK or available to residents of the UK- they are designed specifically for International guests to the UK.

​
BritRail England M-Pass Eligibility
BritRail England M-Pass Eligibility
BritRail Passes are designed for sale overseas by tour operators and travel agencies to persons having their permanent residence outside UK.
BritRail England M-Pass Valitity
Pass must be validated within 6 months of the date of purchase.

BritRail England FlexiPass

permits the holder to choose the travel days within the period of validity. Passes are available for 3, 4, 8 or 15 days travel in 1 month.
BritRail England Consecutive M-Pass is valid for travel on a set number of consecutive days. Passes are available for 3, 4, 8, 15, 22 days or 1 month.
BritRail England M-Pass Discounts
BritRail Saver Discount
Small groups of 3 to 9 people can receive a discount of up to 20% off regular prices if they travel together. The BritRail Saver Discount is available in both 1st and Standard Class. Please note the group must travel together at all times.
BritRail Family Discount
Purchase any select adult or senior BritRail Pass and one accompanying child (age 5 to 15) receives a Pass of the same type and duration for free. For additional children, the price is up to 50% off the adult fare. The BritRail Family Discount is available in both 1st and Standard Class.
BritRail Low Season Discount
Travel between January 1st and February 28th and November 1st and December 31st and receive up to 20% off the regular Pass price.
BritRail Youth Discount
Youths between the ages of 16 and 25 (inclusive) are eligible for a 20% discount in both 1st and Standard Class.
BritRail Senior Discount
Seniors 60 and over receive up to a 15% discount.
Please note that discounts cannot be coupled with other discounts, only one discount per pass
.
BritRail England M-Pass Further Information Notes
Some trains in Great Britain do not have 1st class accommodations. The price of the 1st class Passes have been adjusted to reflect this.
BritRail England M-Pass Conditions of Use
BritRail England M-Pass Refunds

BritRail England Refunds will be Granted if Certain Conditions are Met
The unvalidated Pass is returned to the office from which it was purchased within one year from the date of issue, (unless a different time period is specified by your travel agent).

Passes or tickets must bear no evidence of having been tampered with in any way.

No refund can be made in Britain.

No refund can be made if the Pass or Ticket cannot be produced.

Refunds are not given on validated Passes once the commencement date has been reached.

Where a Pass forms part of an inclusive Tour Package, it is not separately refundable.

Where no other cancellation charges are specified by travel agent, the cancellation charge will be a minimum of 15%.

Special offers are not refundable.

Neither the Participating Operators nor their Agents can accept any responsibility for any failure in the provision of any special offers included.

Seat and Sleeper reservations are non refundable.

The M-Pass versions of the BritRail Pass are non-refundable once the passenger clicks on "Activate" on the activation website.
​BritRail England M-Pass Fees and Charges

Reservation fees guarantee space on a particular service, but not always a specific seat assignment.

BritRail England M-Pass Lost Tickets

BritRail is not responsible for tickets or vouchers, which are lost, stolen, mutilated or destroyed. Refunds cannot be authorized in such cases.
Therefore, travel insurance is recommended
BritRail England M-Pass More Additional Information
BritRail Passes are not valid on Eurostar services between London and Brussels or Paris, London Transport Underground trains or buses, on special excursions, on ships or other Channel ferries, or on coach services. BritRail Passes are not valid on trains in the Republic of Ireland, Northern Ireland or any other transport service not mentioned here.